Saturday Nov. 22 - Dubland Underground in Rochester, NY
Written by Joel Blizzard :: Tuesday, 18 November 2008 01:51

---
Castaways this Friday! Stonecat on Saturday
Written by Joel Blizzard :: Wednesday, 22 October 2008 22:22

This Friday we are playing at Castaways: The show starts at 9pm sharp with Sleeping Giant & Word of the Day, 10pm The Buddhahood and Thousands of One at 11pm. We are more than excited to bring these two groups down from Rochester to connect the communities and enrich us all. Please do come and check out the fusion reggae vibes these guys play so well.
For all you Hectorites, this Saturday we are returning once again to the awesome Stonecat Cafe located on rt. 414 in Hector.  Always an incredible vibe and over-the-top menu.
This weekend we will be playing a few new songs that we have worked up in the studio and are super excited about.
Love and revolution! Come say hello!


---
Request Us In Your Town
Written by Joel Blizzard :: Tuesday, 21 October 2008 00:00

We have distributed over 300 copies of our recent release "SoulForce" to radio stations across the country. Wherever you live, check with your local radio station that carries shows in which Thousands of One would fit and see if they have a copy. Make a request and send it out to someone you love!

Thank you so much for your support.


If you don't have it yet...GET YOUR COPY OF SOULFORCE! click here to support . Many of you have already picked up a copy through either a local record store, through CD Baby or downloaded through either Amazon or iTunes. We thank you so much as it is exciting to think so many are hearing the sounds we put to groove on this record. We are currently planning for an international release of the record so that those of you overseas can pick up a hard copy locally.

---
Thousands of One Live at The Whiskey
Written by Mark Wienand :: Thursday, 04 September 2008 07:27

Thousands of One, live at The Whiskey in Annapolis, MD on September 26 with See-I featuring members of Thievery Corporation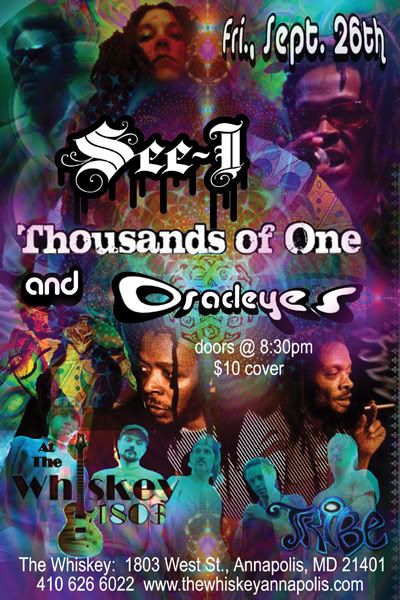 And here at home, at the Baptized Church:
---
Page 12 of 14
 NEW RELEASE - SCARAB!!!
Purchase from iTunes or CDBaby
May 25, 2013

Big Splash Binghamton!
Jun 28, 2013
09:00 PM - 10:00 PM
Stonecat Cafe, Hector, NY
Jun 29, 2013

Winestock NY, Geneva, NY
Jul 12, 2013
05:00 PM - 06:00 PM
Upstate Boogie, Lyons, NY
Jul 13, 2013
05:00 PM - 06:00 PM
Private Event
Join our Mailing List!
Stay up to date!
Join Our Mailing list below: